Before I let you in on my inbox i just want to share news about a
Rule Of Three Blogfest
. Out of more than 300 participants, who submitted their stories, a shortlist was published. Now its left to us, the reading public, to help them out by voting for the story we like best. By the way we are very sternly asked to dig deep within our moral fibre to make sure that we vote out of merit than friendships or popularity (well it wasn't said in so many words).
I read all 6 stories on the shortlist yesterday and thought I'm hazard a guess at who would win. All six stories can be found
HERE
and below are links to the ones I'm rooting for. I can categorically state that the fact that my favourite is a South African and a blog buddy is pure coincidence (I sound a bit like South African politocians here). I can assure you that moral fibre is completely raw from the deep digging
**wince**
I gave it as I made my decision , i'm sure you'll agree with me about the awesomeness of Misha's story when you read it.
****************************************************************
Here's what I got recently in the mail. Lots of reading to do. I had better learn to do a weeks posts in a day.
I also noticed that there is nothing paranormal about this week's picking which is quite refreshing don't you think? :-)
I am now deep in the throws of reading Hardware bu J.L Campbell and as always she starts of with a bang.
Book Description
Camille Moyston has managed to put the nightmare of a violent attack behind her. Having forged a safe, predictable life, the last thing she needs is a cliché, oversexed Jamaican male expressing interest.
For Quinn Mayhew, life is too good to waste time chasing a haughty, irritable woman who is too cautious to accept him for the man he is, but somehow she symbolizes everything he desires in his future.
When Camille's inner fortress finally starts to crumble, Quinn is arrested for murder and everything changes...
Received courtesy of the author: J.L Campbell
A passionate December love affair.
The meeting of an unexpected traveler.
The consequences of protecting a young new acquaintance.
A journey into an unknown past.
In the stories of While I'm Still Myself, Jeremy Lane eloquently describes the life changing impact of the brief encounter, showing that life and love are not shaped by an entire lifetime, but by the fleeting moments with unexpected people in unexpected places.
Review request by Jeremy Lane: Author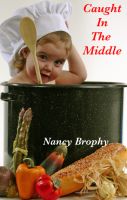 I really and I mean really cannot wait to read this book, it sounds so good and I've seen some great reviews.
Book Description
Caught between his job and a sick daughter, Detective Grant Matthews' life is held together with duct tape and chewing gum. Dori Connors is a person of interest in his latest case. Her ex - now Assistant Commissioner - is pushing to have her arrested. Time is not on his side. His career hangs in the balance. And he's having a hard time fighting his attraction to the curvy caterer.
Review request by Nancy Brothy: Author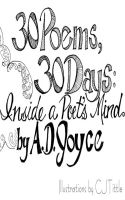 Book Description
How does a person transform thoughts and experiences into a poem? "30 Poems, 30 Days: Inside a Poet's Mind"--a poetry collection with commentary--explores just that question, as a writing challenge for poet A.D. Joyce becomes a saving grace. Illustrations by CJ Tittle.
Review request by A.D Joyce: Author