Today I am featuring a young man from Nigeria, Ifedayo Adigwe Akintomide
Dayo I am so extremely happy to have you on my blog today as the first West Africa writer living in West Africa. I am also pleased that at last my blog friends get introduced to the talented writer that you are.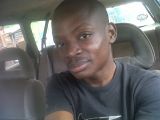 Can you tell us a little about who you are and the part you play in the writing world.
Thank you Wendy. My name is Akintomide Ifedayo Adigwe. I am thirty three years old and an author from Nigeria. Born into a middle class family with five other siblings. Those are just the basics. My goal as an author is to bring African stories and the Nigerian way of life to the world
If you had to pick three words to define you as a writer, what would they be?
Imaginative,
unique,
shocking
Three things you just simply cannot do without when you are writing.
Quiet, music in my ears and the connection.... What I mean by the connection is I write as if I am a flash drive downloading the story from a server. If I don't feel that connection to the story, then I cannot write
What kind of music do you listen to?
I have a wide selection of music that I like. Soft rock, RnB, rap and sometimes country. But the country music songs are few and far between
I read that your writing was actually initiated as a result of a suggestion made by your gran, can you tell us about that?
She was worried that as a result of a long hospital experience, I might be keeping a lot of negative emotions bottled in. So she suggested I start putting my thoughts on paper. So I started writing whatever came into my head. That was how my writing began.
How and when did you make the transition from journaling thoughts to thinking about stories?
I got tired of writing about my boring day to day existence. I was having physical therapy then and most of my thoughts were depressing and I must admit self pitying. So one day I just decided to try my hand at writing something interesting. That was when I started making up stories.
Your writings seems to have a deep seam of social consciousness, was this a conscious decision that you made?
Not really. I write as the spirit leads me. Being religious I guess the social consciousness thing is something I believe maybe God wants me to tell the world.
As a self publishing author what has been the:
The biggest challenge has always been editing and marketing my work. The hardest part is getting your material out there for people to see and gaining a following.
The biggest highlight was when I was able to get my books into printed format.
If you had to do things over, what would you do better about your publishing activities?
Hmnnnnnn.... Tough question. I guess I would have asked more questions and picked the brains of a few more experts. Trying to go solo can only take you so far.
What have been the most important ingredients to your success in your career writer?
I'd say God because I believe all inspiration comes from him. So without him in my life, I do not think I would have anything to write about. So he is my biggest ingredient.
What rewards would you say you get from you career as a writer?
Fulfillment. I am doing what I want to do. It's a job I love. I am in my element when I tell stories and now that I have reached the stage that my stories can be read and appreciated by a worldwide audience that is my greatest reward.
I assume you read international writers books too, what do you think you enjoy as an African writer that international writers do not?
The advantage of a fresh take and voice on over explored and overused themes. My writing style and stories are unique. It is told from the point of view of Africans. The world is looking for something they haven't read or seen before. Everything is becoming stale. Literature in Africa is still in development. An African writer has an edge because he is giving readers worldwide what they haven't seen before.
Your book that I have started reading, Without A Voice, is a compelling book about human trafficking and child labor in Nigeria but disguised as a fictional tale, what moved you to write that story?
I wanted change. I decided two years ago that I wanted to expose the ills in my society. Corruption in government was the first social issue I tackled. That was why I wrote my crime political thriller titled The Divide.
A wise man said evil prevails when good men do nothing. Since I don't believe in violence I decided to try and make a change in the only I could. By writing about it. To bring awareness about the ills in my society that the average joe might not be aware of.
What do you wish people to glean from your writing and what is your call to action?
My message has and always is hope. A belief in something greater than yourself. Total and complete reliance on God and the love he offers. My call to action is for people to rise and embrace positive change. The ills and terrible things that are being swept under the carpet cannot be allowed to continue.
Tell us about the book that you want to give one lucky commenter.
The Divide is a crime political thriller which gives the reader a grim insight into the shady and criminal underworld in Nigeria. It explores themes like social unrest, religious extremity and corruption.
It is the story of man with an unhealthy addiction to loud music who wakes up to find his wife and child murdered. Arrested by the police he is remanded in a prison at the extreme horn of Nigeria until Islamic militants break into the prison and set all the prisoners free.
On the run, he must find his wife and child's killers and find out why they were killed before the police and his pursuers catch up with him.
End
If you'd like to win a copy of
The Divide
, please leave a comment below about any curiosity we have about African literature and writers.
You can find Dayo here:
https://www.smashwords.com/profile/view/semanticdmax
Remember:
You can access other interviews here: Interviews
You can buy all of Dayo's book through Fabulosity Reads Books Online.
I appreciate your support, it helps me do what I love best which is blogging about writers and getting their work out there.