I don't think there is a blogger or writer I know who is not interested in book promotion and getting more followers for their blog or social media platforms.

Blogs that cover hints and tips of how to do this effectively have been my night time reading for a while now and I've met some extraordinary people whom I think you might be interested in.


Today I'm introducing Kenny Boykin formally because this is not the first time I'm talking to your about Kenny. The most recent mention was in my
New Year Resolutions
post.
I remember saying he was my go to guy for a blogging pick me up.... its about time he came over to do that here.
I will be having Kenny over again for part two of the interview because there was just so much to share, I could not post the whole interview. It could be an eBook on its own. LOL....kidding...not so much.


Kenny has also generously sponsored my blog with 100 copies of his eBook whose details you will find below. When I asked him if he would be willing to giveaway a book or two to readers today this is literally what he said to me:
"....well Wendy the guide is doing quite well and I won't miss out on the money so how about I give you a 100...." Bless your heart Kenny.
I can't wait for you to get your hands on this book. The more people working with the strategies and sites he discusses the better. His favourite site is certainly one of the major contributors to my consistent social media presence.
So let me get right into it.....
From what I can tell Kenny, you have been active as a professional blogger for some time so I think you would be best able to answer this. If you were to list 5 features of a successful blog, what would they be?
Tuff Skin is the name of the game!
It's important to remember everyone will not like your content and that's OK. Don't let that affect your attitude or confidence. People are faster to leave negative feedback before positive feedback. For Example
If we like a post we may hit the like button or Google Plus it but if its something we do not like or anything that has made us angry we are willing to sit there and write a bad review or remark.
Epic Content
Write for your visitors, not for the search engines. I have to constantly remind myself this with every post. Still try to keep keywords in the header and first paragraph but don't be so worried about keywords to where it changes the whole flow of your post.
Make the search engines look for you. When your articles, pages, or post are getting a lot of social attention, trust me, these search engines will come looking for you.
Don't write jus to write….MAKE IT EPIC
Belief
If you don't believe in your Blog, then no one else will either!
Branding
This is very important! I spend a good deal of time teaching people in all aspects of business the importance of BRANDING!. Many times our visitors buy into us and not so much the product or book we are promoting.
Lets be Real
9-10 times no matter what product or which subject matter, you can go out there and find a similar product, book, idea, whatever… But you will choose the person, blogger, or author because you have bought into their personal branding.
I know for a fact its true because I have personally helped people go from $100 a month to $10,000 a month, all with the use of BRANDING!!!
Thinking outside the box
If you have a creative idea, try it out. You never know which approach is going to give you viral results.
Don't only limit yourself to what everyone else is doing.
Do these matter whether you are blogging for direct profit or indirectly as in the case of most writers trying to sell their books?
It does not matter if you are blogging for profit or trying to sell more books. The concepts will be the same just with different approaches.
Important Note
It usually takes someone 5-7 times to see something before they decide to purchase. So with that being said, you may need more than 1 post about a product if you are truly tring to "BOOM" sales .
We all can relate to shopping but For my Ladies....
Think about when you go shopping and you see a pair of shoes you really like. You don't just grab them throw them in the shopping cart and buy them… Noooooooo Buddy. You pick them up, look at them from the front, look at them from the side, look at them from the back, think about what you got to wear with them, visualize yourself with them on, and most even try them on. Now that's way more then 5-7 times but I believe you get what im saying.
Bottom line Promote More!
Where do you think most people go wrong in the quest to make a success of their blogs? In other words what separates blog success to blog failures?
People Quit too Early
Sometimes its only one small tweak, that will make the difference of thousands of dollars. Its important that we "Fail Our Way To Success" Fail until you get it right.
Also.
Set your own level of success.
What may be success for you would be failure for someone else.
If I made 50 million by the end of this year I would jump for joy but someone like Bill Gates would jump out a window.
Be your own judge.
I don't think I have ever come across any real person with the kind of social media following you have. I mean let's look at your stats right now and you tell us what it took you to get to this point.
Over 50,000 Twitter Followers
Over 50,000 Instagram Followers
27,000 LinkedIn Connections
4,500 Personal Facebook Friends
7,500 Pinterest Followers
This might be the number 1 question I am asked on the daily. To be honest its not even as hard as you may think. I spent years learning techniques I am teaching people in weeks as well as months. I am currently working on a book about expanding your social media reach.
Its always seem hard at first. Its funny because you can spend more work to get your first 1000 than you would for the next 10,000. Some key factors are branding, consistency, thinking outside the box, keeping track of what works, duplication, automation, trial and error.
Not all social media networks are alike, which means not all of your approaches to building that network should be alike. The whole book is based on branding, outside the box ideas, social media tips and tricks, what works for each individual network, the list goes on.
I read in one of your posts that you actually did start blogging for profit one time and it was an epic fail. You succeeded on your next attempt, what made the difference?
Epic Fall ~ Blogging for Profits
OMG!!! What failure it was…
I was blogging for profit,
Not
Making a Profit blogging, if that makes any sense.
I learned so much from that failure. Its important to research before you start anything. This one concept can save you a life time of TIME. I learned content has to be keep first. Content is King and Queen. The products, books, and affiliates are the servants.
Important factors I learned were to keep ads off of my major affiliate post and pages. Don't over do it with ads. I had to learn just because there was an open space didn't mean that it needs to be filled with some type of banner or ad. I learned to be very tactful with advertising affiliates. Never Ever Ever give a blind good review, no matter how good the pay out. I mean I really can go on for hours about this stuff but Im so glad I learned from these mistakes!
As writer bloggers, what would be the best and fastest ways for us to attract followers, can you share a couple of your go to places?
First off is Triberr, a network mainly consisting of bloggers (potential readers).
The fastest way for writer bloggers to attract followers to focus in the places that are reader and writer populated.
Triberr is one such awesome place to get followers. Not only will you connect with other bloggers, reader and writers but you will be also introduced to their networks, their reach, their twitter followers, facebook friends, google plus, fellow stumbles.
Reasons I love Triberr
When you are want to get your content out there more what better place to do it?
I mean we bloggers are the rockstars of the online world and you have a network of online bloggers who are committed to constantlly sharing your blog content with the world 24/7.
Lets face it, we all have far too much going on in our lives to be infront of our computers all day which is what is needed to remain visible on social media.But when we get together in groups such as Triberr, we can quite effectively maintain visibility almost to the minute of everyday.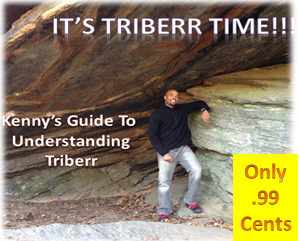 Triberr really is one of my favorite networks and that's why I wrote a guide for it.
I highly recommend that you check triberr out and then beg Wendy for a free copy of the guide.
Pinterest is a great social media platform to find readers and bloggers.
I get a lot of traffic simply by people repinning and sharing my article pins.
Redditt is another great place to find readers. Its actually a pretty strict network for spammer to which is a very good thing.
Its good for people to not always look for the grand slam or home run.
Sometimes to get going all you really need is a base hit, getting on base is the important thing.
So instead of focusing on getting thousands of followers within a short time, focus on the social media networks that will bring you the best result.
Knowing which social media networks to target is key, watch where you spend time.
Why would you spend more time in a network like instagram instead of a place like goodreads?
Do a google search on sites like goodreads or any site you find that seems to be a good place to find readers networking with authors and get involved.
Focus on Networks where you are celebrated not just tolerated.
In the book I explain a bit more about how Building The Right Connections can increase your twitter, facebook, google pluses.
Grab a copy from Wendy.
Kenny this was epic. thank you so much. I'm looking forward to sharing the rest of this interview next week. See you them............
Visit Kenny some time why don't you.....
THERE ARE TWO PARTS TO THIS INTERVIEW.
Part 2 will be published next Tuesday, I look forward to your next visit.
THIS GUIDE HAS VALUABLE INSIGHT INTO HOW TO BUILD CONNECTIONS THAT WILL ULTIMATELY BRING MAJOR TRAFFIC TO YOUR BLOG AND BOOKS.

There is no jumping through hoops with this one.
Just leave a comment indicating that you would like a copy and leave an email address.
Hopefuly you will consider following my blog via GFC above the post but you dont even have to do that.
HAVE A FAB DAY WHY DON'T YOU!!!