Writing by its very nature is about expression of self in one way or another and sharing thereof with the world.
It is extremely disconcerting therefore to find that there are countries where this basic life essential still suffers from government inteference arbitrarily. Not long ago in my own
South Africa
and even the
SADAC
region there was an up roar overthe
Secrecy Bill
that would clamp down primarily on the rights on the media because the ruling party wants to control what we see and hear. The more things change the more they stay the same you might say.
Don't get me wrong, I do not mean to say there should not be limits for extenuating circumstances such as in writing that infringes on the rights of another. In these cases I agree there should be statutes in place to govern abuse of this right as is the case with all others.
But on the whole, it is egregious government practice in my opinion to restrict people's expression simply because you do not agree with their views or their values.
That's why I thought it pertinent to bring both writers and readers attention to this article in the
Gaurdian
today.
We need to be aware of the freedom we enjoy in our countries and appreciate it but more than that, become involed in whatever struggle our contemporaries are facing around the globe.
I do not believe we necessarly have to be in the marches at those locations to do this, but can be just as effective in helping by sharing teh news and bringing the world to awareness of their plight.
After all, the Apartheid atrocity would propably still be alive and thriving had the voices of people around the globe not risen in support of it's victim's struggle for freedom.
Russia's anti-gay and blasphemy laws threaten freedom, says

open letter

signed by more than 200 writers from 30 countries (

article by:

Alison Flood
, and
Shaun Walker
)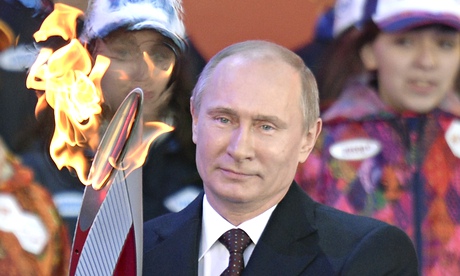 The 'chokehold' Vladimir Putin and the Russian Federation 'has placed on
freedom of expression needs to be addressed,' says Salman Rushdie.
Photograph: Alexander Nemenov/AFP/Getty Images
More than 200 prominent international authors, including Günter Grass, Salman Rushdie, Margaret Atwood and Jonathan Franzen, have joined forces to denounce the "chokehold" they say Russia's anti-gay and blasphemy laws place on the freedom of expression, amid a growing swell of protest on the eve of the opening of the Sochi Winter Olympics.
The authors' open letter, published in the Guardian on Thursday, comes as athletes and journalists from around the world descend on the Black Sea resort before the lavish opening ceremony at a specially built stadium on Friday evening. President Vladimir Putin has spoken of the Games as a personal project to show the world Russia's greatness and its ability to host such major events, but the build-up has been marred by controversy over corruption and rights abuses in Russia.
continue.....