Lately, in fact for over a week I've been thinking about cheerleaders and the role they play in our lives.
I suppose my thoughts have been mainly been motivated by a series of lovely things that other people have done on my behalf lately.
I'm not, sporty person, in fact I've only ever been to one sports match, it was a cricket match and I only went because I was invited and had nothing to do. I had more fun with the people I sitting on the stands with than actually watching the game.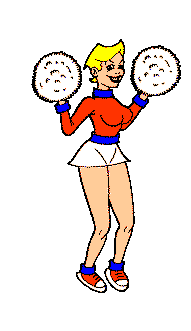 On the other hand, though I have seen enough YA movies and chick flicks to know that cheerleaders are very important to the moral of a game and therefore to its players performance.
They are the flashy flexible girls on the sidelines who get the rest of the crowd going in support of their team. They add extra fuel to the team that gets it going when momentum slows.
I actually find their role symbolic of normal relationships and interactions across all walks of life.
We get encouraging quotes everyday telling us we do not need anyone else to complete us, that we are complete on our own. But wait. Minus the couch jumping, maybe little man, Tom Cruise had something going in his infamous words, "she completes me".
Yes, we should not need constant validation to feel whole and significant as human beings, I agree completely. However, on the other hand, recognition by our fellow beings also means something. Why else do we glow in the midst of receiving praise? Why does the man get the couch when he forgets that all important wedding anniversary?
We all want a some recognition for our efforts or a little shout from the sidelines saying: "YOU CAN DO IT". Without these we can become despondent, feel unmotivated and at worst unappreciated.
So in this context, can we still say truthfully then that we do not need anyone to complete us?
The people, whom we live with, communicate with, befriend and who provide that vital ingredient in our lives that is so intangible we do not acknowledge often, those are the people I am talking about.
Sometimes it does take someone else to make you believe in yourself. We do not live in a vacuum but coexist with others for mutual benefit, a big part of which involves lifting each other up.
Or so it should be.
I know how good it feels for me to get a kind encouraging word from a friend and sometimes even a total stranger. An unexpected compliment from a client. A spontaneous hug and I love you from my kids while they tell me I look beautiful when I feel like a frumpy bag lady the size of a whale with crazy hair to match.
Sometimes it is all these people who make me get up looking forward to doing more in the days ahead.
I have many cheerleaders and some of my most active ones are online, and boy am I blessed to have them because to be very honest with you, without their unfailing encouragement and support, Fabulosity Reads Book Tours would not exist. Simply because I did not have it in me to see or believe I could create such a thing.
To be even more honest Fabulosity Reads Book Tours were not even an idea of mine. One of my cheerleaders dreamt it up for me and planted the seed in me and then encouraged me to get it together.
This is why I see cheerleaders as a vital component in the makeup of our experiences.
Without them we may never know how vast our talent reserves go.
My cheerleaders most certainly do, complete me.
I also guess this leaves me asking myself the question:
Whose cheerleader am I? Whose life am I making such valuable contribution to?
Are you somebody's cheerleader?