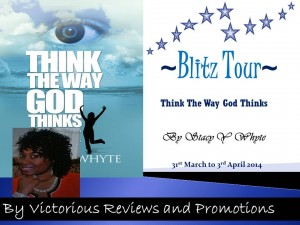 I'm helping out a friend recruit for her first tour.
Please help her out as well either by hosting or spreading the word (no pun intended).
Genre: Religious | Christian Living | Self Help
This is a Blitz Tour for Think The Way God Thinks book. It will occur from March 31 to April 3 and we need as many bloggers as possible for this tour. During this time your blog will be displayed extensively on social media.
Giveaway: Bloggers $20 Amazon Gift card and 2 eBooks
Readers: $15 Amazon Gift Card and 1 eBook
INFO ON MARCH BOOK FRENZY HOP
I gave the 8 authors featured on the hop a number of titles which I thought my visitors would be interested in and these upcoming titles can be found on the sidebar. So you can bookmark what you are interested in and pop in on the day it will be published.
Of course if it were up to me I would have you visit all the posts just to hog your attention and have you get to know some of the most ridiculously gifted wordsmiths you will ever lay your eyes on.
By the by, if you have not done so already, join us for 4 days of undeniable fun....and you may just walk away with awesome books and cash in your paypal account.